About the Industrial Zone of Sidi Ghanem
Marrakech is Morocco's pride, known throughout the country for a variety of reasons, including historic and cultural significance to Moroccans. However, the little-known Quartier Industrial Sidi Ghanem is located in Marrakech.
Are you looking for a unique shopping experience in Marrakech? Look no further than the industrial zone of Sidi Ghanem. Located just 5 kilometers from the bustling medina, Sidi Ghanem is an urban enclave that serves as a mecca for architects, interior design enthusiasts, and fashion-forward individuals. This up-and-coming neighborhood is reminiscent of New York's SOHO district in the 1970s, with its large loft spaces and concrete buildings. In this article, we will take you on a journey through the industrial zone of Sidi Ghanem, showcasing the best shops, designers, and products to explore. Get ready to immerse yourself in the vibrant world of shopping in Sidi Ghanem Marrakech!
Exploring Sidi Ghanem Zone: A Shopper's Paradise

A plethora of local and made-for-export goods await in Sidi Ghanem Zone, offering an eclectic mix of fashion, home decor, pottery, and cosmetics. Charming French eateries dot the district, providing the perfect respite during your shopping spree. Before diving into the shopping destinations, it's important to note that most shops in Sidi Ghanem close on Saturday afternoons and Sundays. Now, let's discover the gems that await you in this bustling industrial zone.
Salima Abdel Wahab: A Fashionista's Haven in Sidi Ghanem Zone

If you have a penchant for unique and trendy fashion, a visit to Salima Abdel Wahab's boutique is a must. This Tangier-based fashion designer has gained recognition for her high-end fashion line for both men and women. Wahab seamlessly blends traditional Moroccan textiles with contemporary designs, creating a collection of pants, vests, jackets, and handbags that exude style and sophistication. One standout piece is the vest made from traditional Moroccan kilims, showcasing the rich heritage of the country. Each piece is one-of-a-kind, reflecting the craftsmanship and attention to detail that Wahab is known for.
Henry Cath: Illuminating Spaces with Artisan Lighting

In the realm of home decor, Henry Cath stands out with its custom-made artisan lighting and products that seamlessly blend Moroccan tradition with modernity. Since the mid-1990s, Henry Cath has earned renown for its spectacular lighting fixtures, including lamps, shades, and other fixtures crafted from linen fabric, copper, brass, and silver. These pieces boast majestic embroidery, which adds a touch of elegance to any space. Whether illuminating your home or business, Henry Cath offers the perfect blend of craftsmanship and style.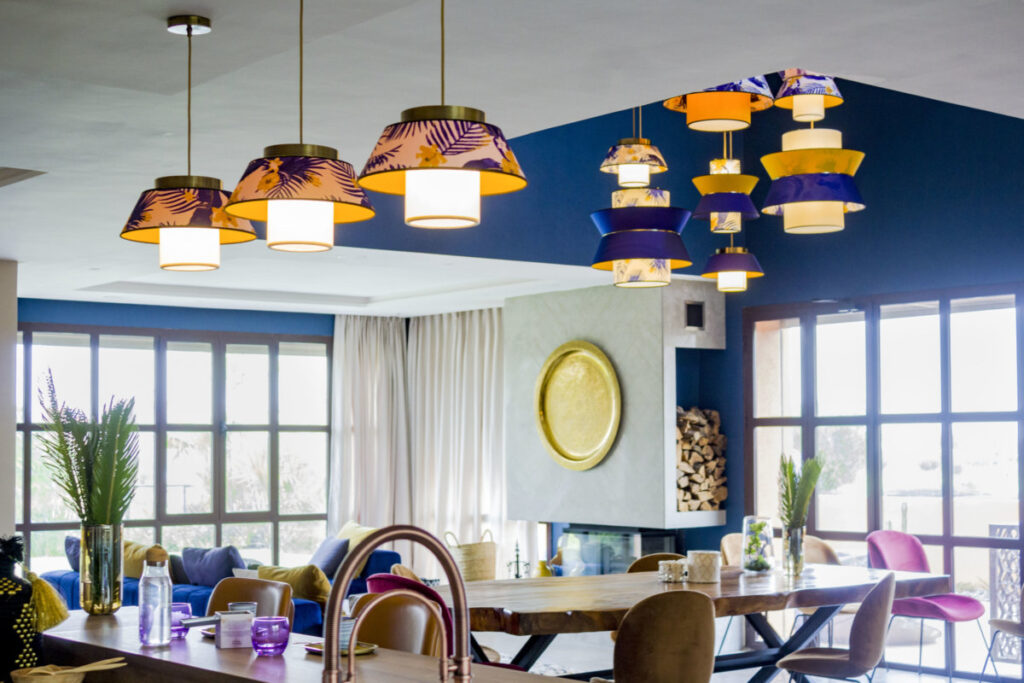 Keros: Fragrance Delights for the Home

Indulge your senses with the wonderful room sprays and scented perfumes at Keros. This showroom offers a wide range of scents, including bamboo, fig, patchouli, and Sahari tea. Whether you're looking to create a calming ambiance or add a burst of freshness to your home, Keros has the perfect fragrance to suit your taste. The prices are reasonable, making it an ideal place to shop for interior perfumes. Elevate your home with the delightful scents of Keros.
Natus: Embrace Natural Beauty with Moroccan Cosmetics

Natus is a leading boutique company specializing in natural cosmetics. If you're seeking high-quality hair and body products, Natus is the place to be. Their range of products is based on an argan oil foundation, combined with natural assets like honey, sweet almond oil, ghassoul, black soap, and extracts of plants and soil from the Moroccan Atlas. These nourishing and enriching products will leave you feeling rejuvenated and pampered. Discover the beauty of Moroccan cosmetics at Natus.
Fenyadi: Pottery Galore and More
For those in search of a one-stop shopping destination in Sidi Ghanem, Fenyadi is a must-visit. This shop offers a stunning collection of pottery, including full-service dinnerware, plates, cups and saucers, tajines, and tea glasses. The pottery comes in a variety of colors, allowing you to create a vibrant and stylish table setting. As you explore the shop, make sure to head upstairs to admire the beautiful collection of candles and candleholders. The intricately cut leather hurricane lanterns, when lit, create magical Moroccan-style patterns.
Fenyadi also offers a collection of luxurious bath towels and bathrobes, which might be the same ones used in your hotel or riad. Indulge in the diverse offerings at Fenyadi.
Akkal: A Pottery Paradise

If you have a fascination for pottery, you must visit Akkal. Visitors can witness the craftsmanship behind their stunning pottery. You enter the shop through the designer's workshop, immersing yourself in the world of pottery-making. Artisans craft Akkal's pottery from red clay, resulting in delicate and fragile pieces that testify to their skill and dedication. You can discover the beauty of Moroccan pottery at Akkal.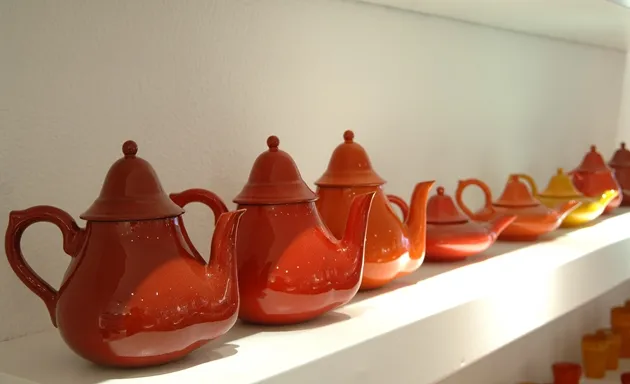 Loun: Tea Cups, Coffee Mugs and More

Loun, although a pottery studio located on the Route d'Ourika, welcomes the general public to its showroom in Sidi Ghanem. Here, you can choose from a colorful collection of tea cups, saucers, coffee mugs, and tajines, perfect for entertaining. The pieces range from soft purples to glazed coppers, offering both affordability and trendiness. Prices start as low as $10.00, making Loun a budget-friendly option for adding a touch of Moroccan style to your home. Additionally, Loun also offers a collection of vases and decorative housewares, starting at $30.00. Explore the vibrant world of ceramics at Loun.
Shopping in the industrial zone
Don't miss out on a unique Marrakech experience by shopping in the industrial zone of Sidi Ghanem. From fashion to home decor, pottery to cosmetics, this urban enclave offers a wide range of products that showcase Moroccan craftsmanship and style. Whether you're a fashionista seeking trendy pieces or a design enthusiast looking to add a touch of Moroccan flair to your home, Sidi Ghanem has something for everyone. Immerse yourself in the vibrant world of shopping in Sidi Ghanem and discover the treasures that await you in this bustling industrial zone.